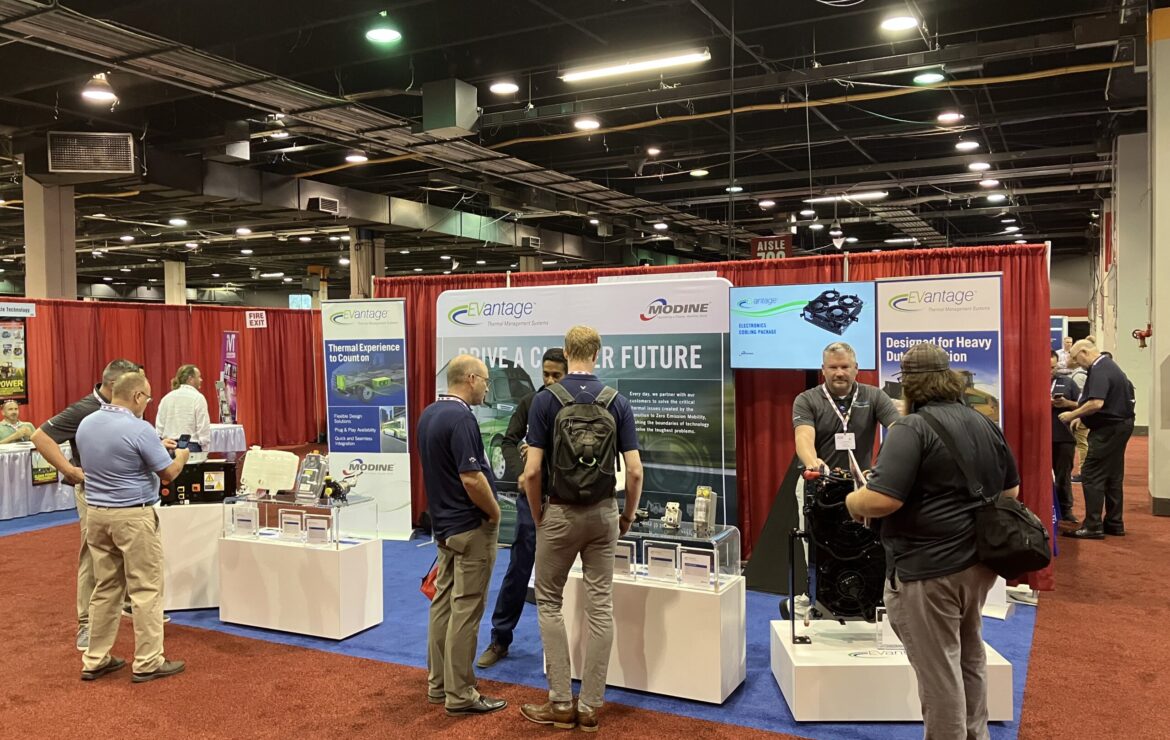 iVT Expo
This year, Modine® presented the EVantage™ product suite at the iVT Expo, also known as the Off-Highway Vehicle Technology Conference and Expo. The tradeshow was on August 23rd and 24th, in the Chicago area in Rosemont, IL, at the Rosemont Convention Center. The tradeshow targets engineers and OEMs in the off-highway market. 2023 was the iVT Expo's second year in the United States. The iVT Expo is traditionally held in Europe and was hosted in Germany for the past few years. 2022 was this expo's first time in the United States. The UKI Media Events organization saw this show as such a success that they plan to continually stand up the tradeshow in both Europe and the United States in the coming years. This show is continuously growing. 2022, there were over 1,000 attendees, and in 2023, the show grew 20% in attendance with over 1,200 attendees. For all interested off-highway engineering professionals, registration was free for all attendees in 2022 and 2023. With two great years of success, the iVT Expo is currently scheduled for next year, August 21st and 22nd, 2024.
This year was Modine's first year exhibiting at the iVT Expo. This was an excellent experience for us as we were able to showcase the EVantage product suite and talk to customers and professionals in the off-highway market about Modine, our capabilities, EVantage products, and our thermal management technology for off-highway vehicles. Modine presented the Battery Thermal Management System with a Liquid-Cooled Condenser (L-CON BTMS), a four-fan Electronics Cooling Package (ECP), and the electric components and heat exchangers needed to keep the L-CON BTMS operational. The L-CON BTMS is a battery thermal management system that optimally regulates the battery pack's temperature. We displayed the following components: heater, compressor, coolant pump, surge tank, valve, chiller, and a liquid-cooled condenser with an IRD. The ECP is a thermal system that cools power electronics and traction motors through a passive cooling loop compromised of smart electric fans and heat exchangers. The products shown are the ideal systems for medium- to heavy-duty off-highway equipment and are only a portion of the product solutions we can offer the off-highway market.
Overall, the iVT Expo was an excellent experience for Modine. We enjoyed meeting with everyone. Please look for us next year at the iVT Expo at booth number 806 to learn more about our off-highway product solutions. If you would like to speak with a team member to learn more about our thermal management solutions, please get in touch with us.