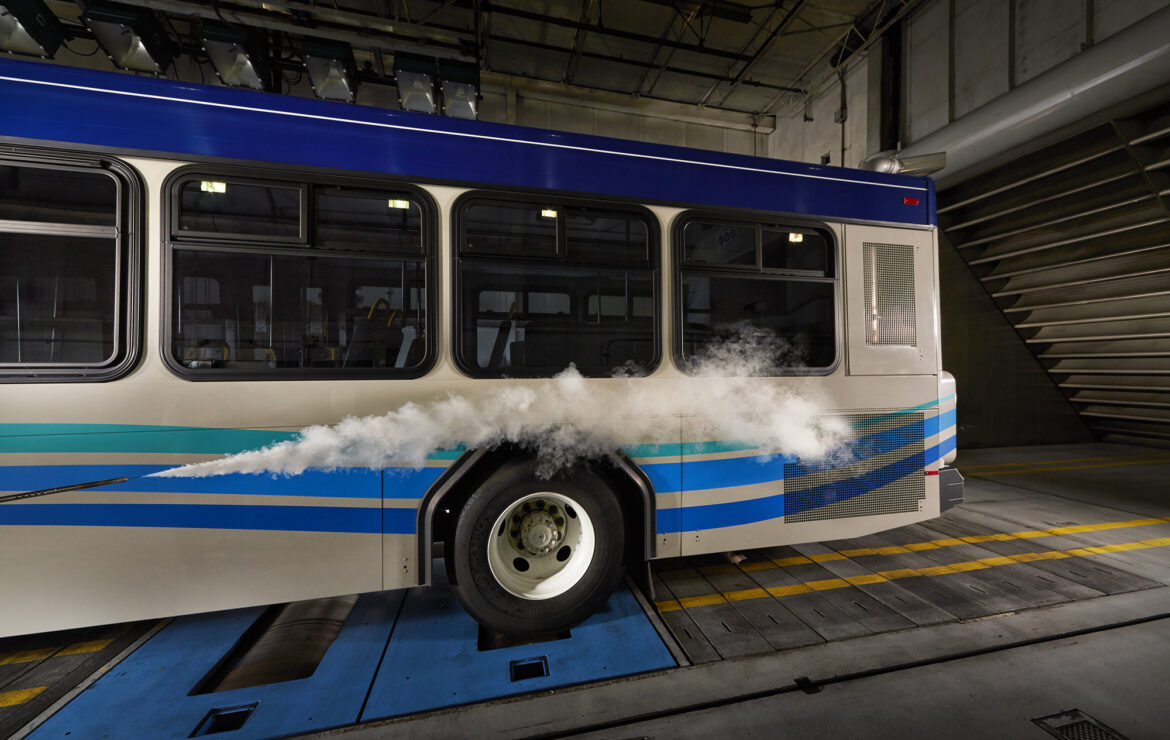 Behind the Scenes: Wind Tunnel Testing
Wind tunnels are facilities that simulate real-world conditions of how air passes around an object. Designers and engineers use wind tunnel testing to study and assess the aerodynamics and climatic wind impact around objects and to validate the performance, efficiency, and durability of their designs. Since 1941, Modine has employed wind tunnels in the development of thermal management solutions for a wide variety of vehicles, including passenger cars, light/medium/heavy-duty trucks, agriculture and construction equipment, and military vehicles. With the rising electrification trend in transportation, various commercial electric vehicle (EVs) OEMs have used Modine wind tunnels to test their newly developed EVs with a focus on the performance of vehicle thermal management systems, ranging from performance evaluations of the engine to Battery Thermal Management Systems (BTMS), Electronics Cooling Package (ECP), and vehicle cabin comfort for the passengers.
In Modine's state-of-the-art wind tunnel, comprehensive thermal and air management knowledge is combined to validate any customer applications. This wind tunnel is truly world-class, boasting one of the longest private-sector wind tunnels in the US. Furthermore, it is designed to generate various combinations of wind speed, air humidity, temperature, and solar load factors so that global weather conditions can be reliably reproduced. This means that the entire vehicle's performance and efficiency can be put to the test under a variety of extreme conditions:
Whether a last-mile delivery van, bus, or truck, any vehicle with dimensions up to 14m x 4.2m x 4.1m (L x W x H) and a maximum weight of up to 39,000 lbs. can be accommodated
24-hour temperature control can be preconditioned between -20°F and 130°F with any programmable ramps and cycles
Humidity can be regulated between 5% to 95% relative humidity
Air velocities up to 150 mph can be produced thanks to the combination of a fan and a resizable nozzle
Full spectrum of solar simulation up to 1200 W/ simulates the intensity of the sun
Accommodate nearly any vehicle drive configuration with an All-wheel drive vehicle dynamometer, which can be adjusted with millimeter precision, simulate realistic road conditions up to 150 MPH with the ability to absorb up to 11,681 N (2,626 lbf) per axle
Equipped with CANBus Data Integration, EV Charging Systems, and High-speed Recording Cameras
In addition to the wind tunnel, Modine's testing facility also includes an ultramodern climatic chamber that allows for the testing of commercial EVs under extreme temperature and humidity conditions. With a range of -40°F to 140°F and humidity levels from 10% to 90%, the chamber can simulate arctic cold to tropical heat to ensure that vehicles can operate reliably in any climate. Additionally, the chamber is equipped with an exhaust removal system and EV charging capabilities up to 480 kW, making it a valuable resource for the comprehensive testing of commercial EVs in a controlled environment. Typically, the climatic chamber is used in conjunction with the wind tunnel to simulate real-life conditions on commercial EVs under assessment. Modine offers comprehensive vin-house validation testing with both wind tunnel and climatic chamber capabilities, providing customers with enhanced capabilities to conduct full EV testing. By replicating various environments and duty cycles in one centralized location, Modine helps customers bring new and innovative technology and designs to the market faster.
As the transportation industry shifts towards electrification, the demand for high-performance thermal management systems for commercial EVs has never been greater. At Modine, staying at the forefront of this change is a commitment, and the world-class wind tunnel and climatic chamber testing facility are crucial tools in achieving that goal. With the ability to simulate extreme temperatures, humidity levels, and solar loads, Modine's testing capabilities simulate extreme temperatures, humidity levels, and solar loads to ensure that thermal management solutions meet the highest performance, efficiency, and reliability standards. Whether developing last-mile delivery vans, heavy-duty trucks, or military vehicles, Modine's testing facility provides a comprehensive validation process from design to scaled production, helping customers bring innovative technology to the market faster. With more than 100 years of experience in thermal management, Modine is the trusted partner to accelerate the transition to Zero Emission Mobility.