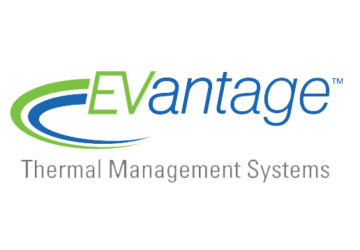 Year Anniversary of the Modine EVantage Product Line
On May 17, 2022, Modine® Manufacturing Company launched its first thermal management systems portfolio for zero-emission mobility. Over this past year, the Modine EVantage™ product portfolio has grown and was integrated into many zero-emissions commercial vehicles. With two additional product releases since the portfolio's introduction and three successful customer thermal system integrations, the Modine EVantage™ product portfolio has seen many successes within one year. These successes can be attributed to our dedicated engineering team, who is constantly breaking the barriers of thermal management challenges with advanced thermal systems and are actively pursuing thermal management integration strategies for commercial electric vehicles.
The EVantage product portfolio comprises many thermal management systems. Modine's thermal system engineering experts' extensive knowledge of thermal dynamics and dedication to providing first-class support to our customers' thermal management problems grew the EVantage product portfolio to what you see today.
The EVantage product portfolio launched with two products the air-cooled battery thermal management system (A-CON BTMS) and the electronics cooling package (ECP). These two products became the staple in the EVantage product portfolio and addressed many of our customer's thermal problems. Through understanding our customers' needs and thermal challenges, our thermal system engineers discovered that these two systems are needed for most vehicle applications. As new thermal problems arose from the market, our team of engineers was able to address thermal challenges for commercial electric vehicles that endure rugged, dirty environments or have space constraints. The product that was able to solve those problems is the liquid-cooled condenser battery thermal management system (L-CON BTMS). The L-CON BTMS comprises an active heating and cooling loop in a compact form factor to meet the thermal needs of specialized applications. From off-highway vehicles to forestry equipment, the L-CON BTMS can meet your thermal requirements.
Another new product that launched in EVantage's first year was the Fuel Cell Stack Cooling Package (FC-SCP). The FC-SCP system is a specialized thermal system that can address the thermal needs of a fuel cell stack. Fuel cell stacks generate a lot of heat, and if not managed correctly, can cause thermal problems in a fuel cell electric vehicle. The FC-SCP can predictively cool to minimize temperature swings, meet stringent conductivity requirements, and recover waste heat from the fuel cell stack for cabin heating. The fuel cell stack cooling package became an optimal solution for fuel cell commercial electric vehicles.
As a result of the EVantage product portfolio's capabilities, Modine won business from three customers. One of those customers is The Shyft Group™. Modine provided a complete thermal solution for The Shyft Group's battery-electric Blue Arc™ commercial delivery van. The Shyft Group integrated EVantage's thermal systems for the battery, power electronics, and passenger cabin.
New Flyer® also selected the EVantage portfolio for their all-electric Xcelsior® transit bus. Modine has been a thermal management supplier for New Flyer for several years. As Modine developed that relationship with New Flyer as an ICE thermal management provider over the years, New Flyer trusted the EVantage product portfolio with their zero-emission transit bus.
As another trusted thermal management partner of REV Group®, E-One® selected Modine as their complete thermal management supplier for the Vector electric fire truck. E-One integrated a BTMS, ECP, and smart electronic components into their all-electric fire truck. The EVantage product portfolio met the thermal needs of the Vector all-electric fire truck for the battery, power electronics, and passenger cabin.
The EVantage thermal management systems is a top-of-the-line product portfolio with all state-of-the-art heat exchangers, smart control software, thermal systems, and smart electric components. As the zero-emission industry evolves, the Modine EVantage product portfolio will continue to develop thermal management solutions to support our customers' commercial electric vehicles. So keep an eye out for the latest technology from the Evantage thermal management system product portfolio. You don't want to miss out on a product solution that could be a perfect match for your commercial electric vehicle. If you want to keep up with the latest EVantage news, sign up for the newsletter here. If you are searching for a thermal management solution, please consider the Modine Evantage product portfolio for your battery, hybrid, or fuel-cell commercial electric vehicle.