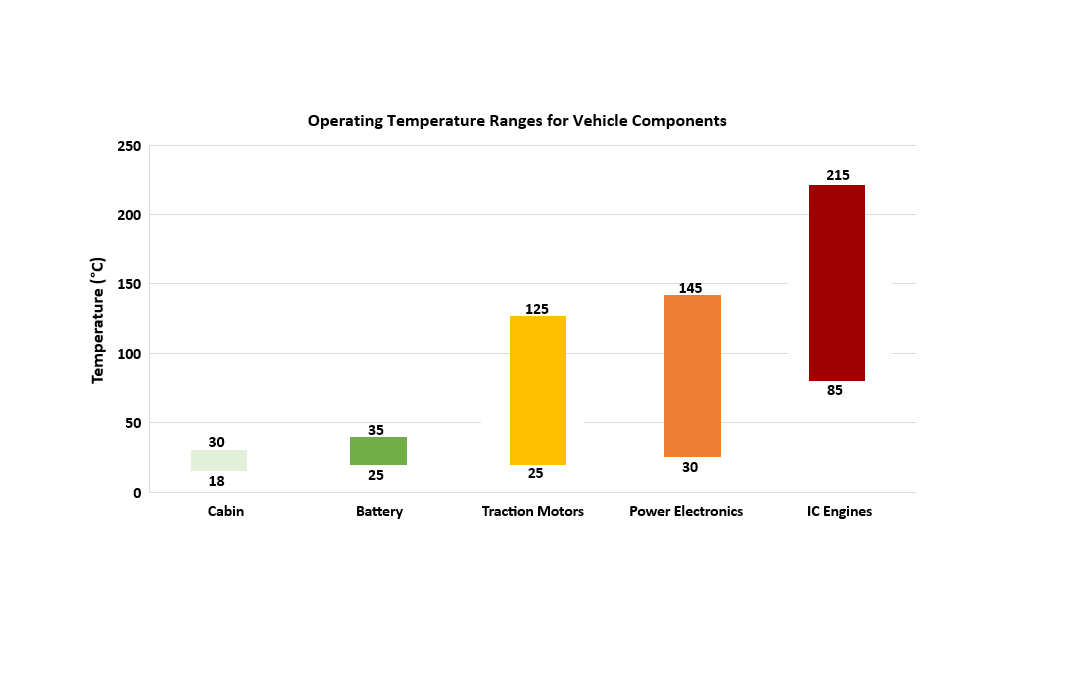 Thermal Management Differences between ICE and Electric Vehicles
As the transportation industry is transitioning from Internal Combustion Engines (ICE) to Electric Vehicles (EV), commercial and specialty vehicle Original Equipment Manufacturers (OEMs) are focusing on bringing their electric vehicle platforms to market. These OEMs aren't just facing marginal engineering decisions but near-revolutionary ones. One particular area of the challenge has been how to efficiently manage thermal loads in EVs. Thermal management might be one of the least visible innovations, but it is the most cutting-edge frontier in EV transportation as it determines EVs' longevity, performance, and safety.
Whether in ICE or EV, the function of the thermal management system in these commercial vehicles is to keep the powertrain components in their desired temperature ranges. If a component is continually operating outside these ranges, the lifetime of the component could be compromised, or permanent damage could occur in severe cases. With that, both EV and ICE systems are less efficient at cold temperatures and hot environments. In cold weather, a well-designed thermal management system would enable fast and efficient warming-up of the system to bring these components to their ideal temperature range. Whereas, in warm weather, these systems need to be kept within their ideal temperature range by rejecting the excess heat loads to the environment to prevent damage to these components.
In terms of thermal management differences between the ICE and the EV, the most obvious is the heat source. In an EV, the primary heat load is from two main areas – the battery pack (both the charge and the discharge cycles) and the power electronics (traction motors, inverters, converters, onboard chargers, etc.). Whereas in an ICE vehicle, the primary heat load is from the combustion process, and most combustion engines operate most efficiently in the temperature range of 85°C – 215°C. In the case of EVs, most power electronics are designed to be operated at higher temperatures, 30°C – 145°C but the ideal temperature for most lithium-ion battery packs is 25°C – 35°C, which is much lower and narrower. This ultimately drives a need for a more sophisticated thermal management system for the battery packs. Thermal management could include an active loop (a two-phase refrigeration system for sub-ambient cooling), a heating loop for cold weather conditions, and a passive loop (single-phase cooling) for when the ambient temperature is lower than the battery pack temperature. Whereas the thermal management system for power electronics only requires passive cooling, where ambient air is utilized to cool the components.
Additional complexity may be introduced to the EV's thermal management system by combining these loops where feasible to efficiently manage the thermal loads and fit within the space constraints of a commercial vehicle. A few examples of achieving this include the use of a refrigeration system in a heat pump mode, utilizing waste heat from the traction motors and power electronics, or some combination of these strategies where multiple pumps and valves are necessary, as well as complex controls to route the coolant and optimize the pump speeds. In contrast, the thermal management system for a conventional ICE vehicle is much simpler – using a single coolant loop comprising a Heat exchanger that is air-cooled with forced air.
Innovations in efficiently controlling temperatures of EV components are at the apex of making electrified commercial fleet vehicles viable. Designing a thermal management system to efficiently manage the thermal loads and a system that fits the space constraints of a commercial vehicle while reliably meeting the heavy-duty operation environment requires specialized thermal management expertise. Leveraging more than a hundred years of thermal management experience, Modine EVantage™ Battery Thermal Management System (BTMS), Electronics Cooling Package (ECP) combines state-of-the-art, proprietary Modine heat exchanger technology with tailored, smart electric products (pumps, valves, fans, compressors, heaters) to deliver a complete solution, designed to fit any chassis. With included master thermal controller and Modine-developed firmware, our complete thermal systems are proven to deliver maximum performance at the lowest power draw.