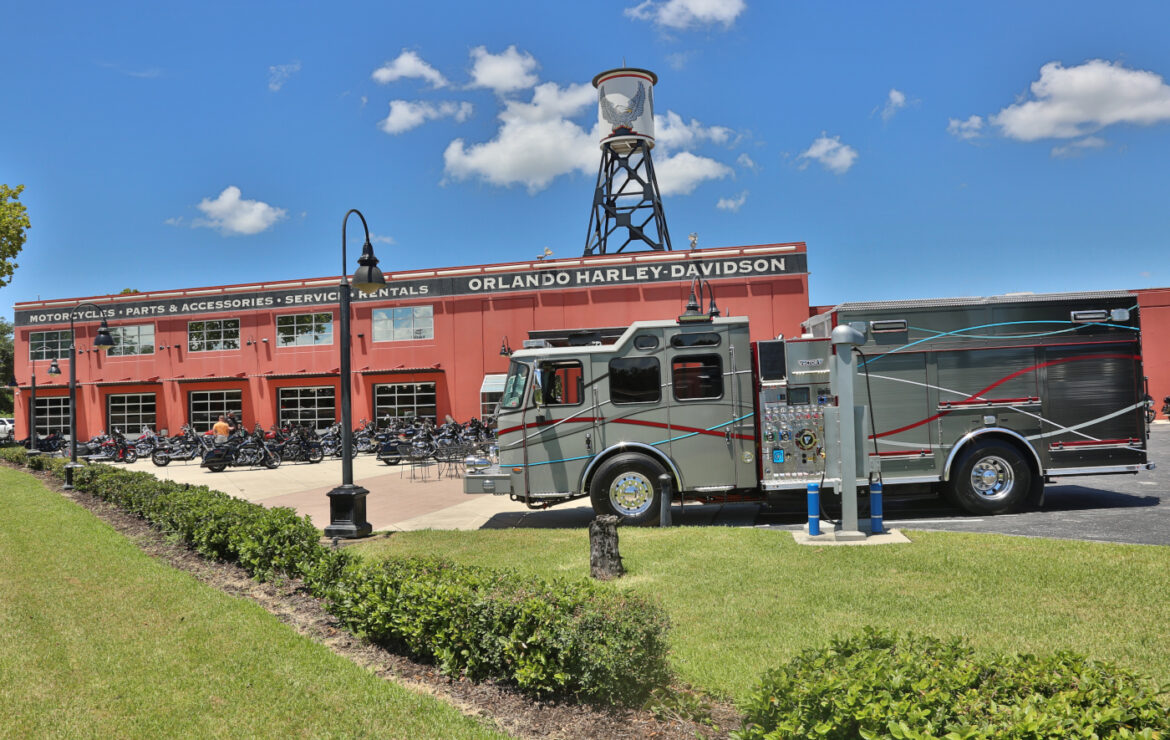 Modine Provides Thermal Management for REV Fire Group's All-Electric Fire Truck, the Vector™
Purpose-built thermal management solutions from Modine keep EV systems in optimal temperature ranges for REV Group's fire apparatus brands E-ONE, KME, Ferrara and Spartan Emergency Response.
RACINE, Wis., March 21, 2023 /PRNewswire/ — The unique needs of specialty vehicles like fire and emergency service vehicles must be met for the full benefit of zero-emission transportation solutions to be realized. To that end, Modine Manufacturing Company (NYSE: MOD, "Modine"), a leader in thermal management technology and solutions, today announced an expansion of its partnership with REV Group, Inc. (NYSE: REVG) and its fire apparatus manufacturing brands E-ONE, KME, Ferrara and Spartan Emergency Response. Modine will supply its EVantage™ thermal management systems for the Vector™, the first North American-style all-electric fire truck.
Each Vector fire truck will be equipped with the complete suite of Modine thermal management systems, including the EVantage Battery Thermal Management System (BTMS), Electronics Cooling Package (ECP), and cabin heating and cooling circuits. These systems work together seamlessly to maintain optimal battery temperature, efficiently cool power electronics, and ensure passenger comfort in the cab, respectively.
"Strategic partnerships like the one with Modine help us minimize the environmental impact of our products by accelerating the use of alternative energy in the firefighting industry, and do so with reliable and cost-effective solutions for our customers," said Roger Lackore, Senior Director of Product Development of REV Fire Group. "Modine's technology is a valuable asset for the all-electric Vector, and we are proud to have them as a partner as we deliver the next generation of specialty vehicles for the customers and communities we serve."
The all-electric Vector was introduced by REV Group in August 2021 to build on their commitment to green, energy-efficient technology. Equipped with 327 kilowatt-hours (kWh) of automotive-grade batteries, the truck provides a long electric pumping duration.
"As the demand for energy-efficient and sustainable vehicles continues to grow, our partnership with REV Group represents a significant opportunity to reduce tailpipe emissions in the firefighting industry while ensuring reliable operation of fire and emergency vehicles," said Gina Maria Bonini, Vice President and General Manager of Advanced Thermal Systems at Modine. "We worked closely with the REV team to gain a deep understanding of their customers' needs and tailored our solutions to meet them. We are thrilled to continue cultivating our relationship as we supply REV Group fire trucks with our advanced thermal technology."
With more than 100 years in transportation industry engineering, Modine produces complete EV thermal management systems that keep battery, traction motor, and power electronics temperatures within optimal temperature ranges under all operating conditions. With the EVantage suite of thermal management products, Modine provides standard and purpose-built solutions that meet the needs of a wide range of applications, including those in the commercial and specialty vehicle markets. Modine customers benefit from a strong portfolio of standard EVantage thermal systems as well as the option to co-develop custom solutions that fit the thermal needs and space constraints of EV chassis.
To learn more about how Modine is helping fire apparatus brands achieve their goals for operational safety and efficiency, please visit www.ModineEV.com.
About Modine
At Modine, we are Engineering a Cleaner, Healthier World™. Building on more than 100 years of excellence in thermal management, we provide trusted systems and solutions that improve air quality and conserve natural resources. More than 11,000 employees are at work in every corner of the globe, delivering the solutions our customers need, where they need them. Our Climate Solutions and Performance Technologies segments support our purpose by improving air quality, reducing energy and water consumption, lowering harmful emissions and enabling cleaner running vehicles and environmentally friendly refrigerants. Modine is a global company headquartered in Racine, Wisconsin (U.S.), with operations in North America, South America, Europe and Asia. For more information about Modine, visit www.modine.com.
CONTACT INFORMATION:
Technica Communications
Cait Caviness
modine@technica.inc