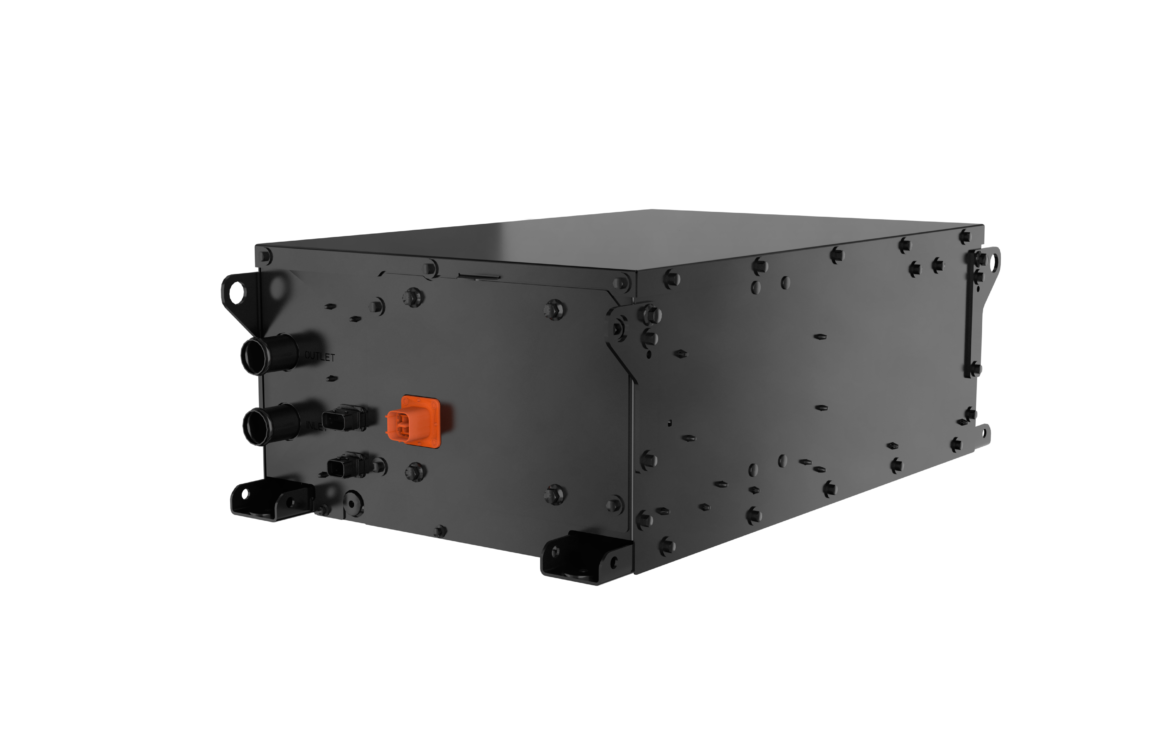 Modine Targets Rugged Off-Highway EV Market With New Battery Thermal Management System
The new EV thermal management solution delivers a complete, plug-and-play system suited to the harsh environments of off-highway machines and specialty commercial vehicles.
[RACINE, Wis, January 24, 2023] — With a global push towards electrifying vehicles across all commercial segments, Modine Manufacturing Company (NYSE: MOD, "Modine"), a leading designer and manufacturer of thermal management solutions, today announced the launch of a new edition of its EVantage™ Battery Thermal Management System designed to meet the specific demands of on- and off-road electric vehicles. The new Battery Thermal Management System with a Liquid-Cooled Condenser, or L-CON BTMS, combines proprietary heat exchanger technology with smart controls and electronics designed to withstand dirty, harsh environments found in mining, construction, agriculture, specialty and transportation applications.
The Modine L-CON BTMS addresses the unique thermal management needs of commercial EV batteries across a broad range of vehicles by being adaptable to fit into diverse chassis layouts. The system features plug-and-play integration, provides unprecedented flexibility for vehicle designers, and can optimize the temperature range for an entire bank of batteries with a single unit. With the freedom to integrate battery thermal management on space-constrained off-highway and commercial chassis, manufacturers can ensure optimal battery performance in harsh, dirty environments.
"The L-CON BTMS gives our customers tremendous flexibility to meet their performance demands and space constraints and deliver industry-leading reliability for off-highway EVs," said Mike Kis, Director of Advanced Thermal Systems at Modine. "EV battery cooling systems used in particularly dirty environments have historically been vulnerable to clogging from debris, and this new design provides significant mitigation. This is another example of how Modine helps electrify transportation by giving our customers solutions that bring more commercial EVs into more market segments."
The L-CON BTMS regulates EV battery temperature using both heating and cooling circuits, and through the use of a liquid-cooled condenser, the BTMS can be situated anywhere on the vehicle. Coupled with a master thermal control unit running proprietary firmware, Modine battery thermal management systems are purpose-built to meet the requirements of heavy-duty vehicle platforms to keep EV batteries within optimal temperature ranges under all operating conditions – from hot summer afternoons to icy winter mornings.
"As a US-based thermal management solutions manufacturer, Modine is ideally positioned to serve the needs of domestic off-highway machine and specialty vehicle makers as demand continues to grow," said Gina Maria Bonini, Vice President and General Manager of Advanced Thermal Systems at Modine. "We are committed to helping our customers bring their zero-emissions commercial platforms to market faster, and the L-CON BTMS allows us to do this for even the most demanding applications. I am grateful for the work of our engineering team, which continues to develop products that meet end-user demands for durability, reliability, and performance."
Leveraging more than a hundred years of thermal management experience, Modine EVantage(™) systems, including the L-CON BTMS, are designed, manufactured, and tested for operation in harsh environments and ruggedized to operate reliably in high-vibration applications. With a state-of-the-art design and testing center, as well as decades of vehicle component testing experience, Modine ensures that customers can have confidence in the performance and longevity of the commercial EVs they produce, regardless of duty cycles or operating environment.
To learn more about the Modine L-CON BTMS and other products in the EVantage suite, please visit www.ModineEV.com.
About Modine
At Modine, we are Engineering a Cleaner, Healthier World™. Building on more than 100 years of excellence in thermal management, we provide trusted systems and solutions that improve air quality and conserve natural resources. More than 11,000 employees are at work in every corner of the globe, delivering the solutions our customers need, where they need them. Our Climate Solutions and Performance Technologies segments support our purpose by improving air quality, reducing energy and water consumption, lowering harmful emissions and enabling cleaner running vehicles and environmentally friendly refrigerants. Modine is a global company headquartered in Racine, Wisconsin (U.S.), with operations in North America, South America, Europe and Asia. For more information about Modine, visit www.modine.com.
CONTACT INFORMATION:
Technica Communications
Caitlan Caviness