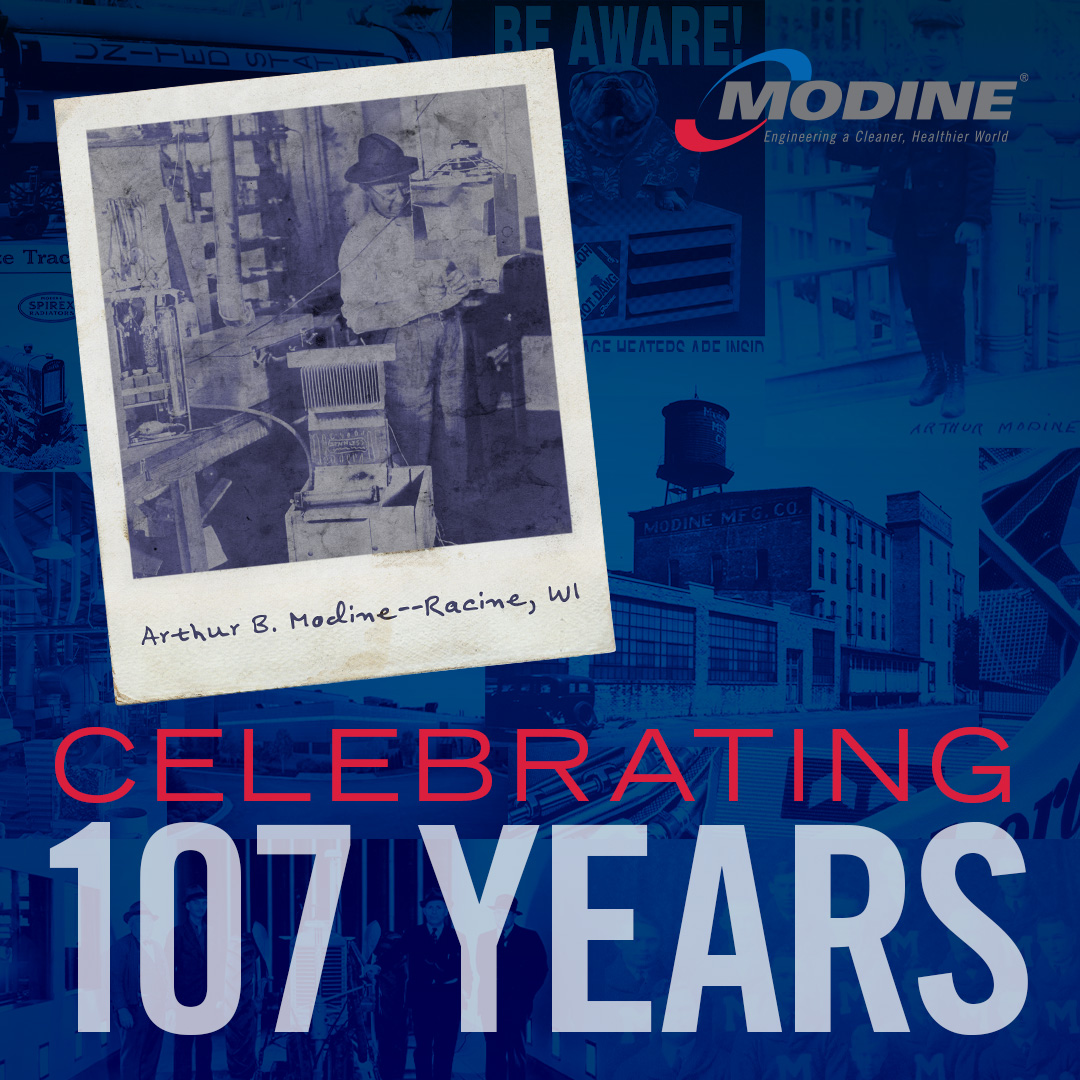 Celebrating 107 years at Modine
Today we are celebrating Modine's 107th anniversary. We started as a small company in Racine, WI, and have grown to a global organization touching over 26 countries around the globe. Our story begins with an innovative gentleman named Arthur B. Modine. In 1916 Arthur B. Modine assessed the limitations of the radiators in the market and decided to create the perfect radiator. A.B. Modine's creativity and ingenuity allowed him to pursue a unique radiator design approach. Instead of focusing on the best way to cool the water flowing through the radiator, he focused on the best way to heat the air passing through the radiator. With that simple shift in thought, he made significant advancements in radiator engineering technology. He called the new radiator Spirex.  Because some of the initial customers were in agriculture or the military, the Spirex radiator had to endure harsh, rugged environments. In fact, the Spirex radiator was the only radiator that passed the US Government's strict standards for artillery trailers during WWI, marking it as one of the most durable and robust radiators.
Modine was also a very early manufacturer of automotive radiators for the Ford Model T. Our entry into mass manufacturing for the automotive industry showed our ability to adapt to the market's demands and scale manufacturing. In 1940, we built what was at the time the largest wind tunnel in the country. With durability and quality being at the forefront of every radiator, state-of-the-art testing facilities were necessary. Today, we continue to test and validate our products' integrity inside vehicles through the wind tunnel and climate chamber at our onsite testing facility in Racine, WI.
A.B. Modine's story did not stop with the radiator; he continued to invent new products using heat transfer technology as the inspiration for his innovations. He redesigned and upgraded primitive unit heaters to heat factories and warehouses. He patented that technology and created a legacy for the engineers after him.
Over a 107-year history, we've received 1896 granted patents from 928 patent families across 26 countries. Using heat transfer technology, we've expanded into other industries, including industrial heating and refrigeration, indoor air quality, data center HVAC, and of course, automotive and heavy-duty equipment heat exchangers.
By keeping heat transfer technology at the core of our business, we have propelled beyond our existing markets into zero-emission mobility. By creating thermal management systems for batteries, power electronics, fuel cell stacks, and cabin heating and cooling, we continue to take on new challenges during the market's transition from ICE (Internal Combustion Engine) to EV (Electric Vehicle). In recent years, Modine has provided unique thermal solutions for our customers in the commercial electric vehicle market by leveraging our 107 years of heat transfer experience. Our EVantage™ thermal management systems are able and ready to provide unique solutions for commercial electric vehicles' thermal management problems. Modine's story will not end here because we're always innovating thermal management solutions to meet the needs of today and tomorrow.